Although the 2020 summer has been a rather dismal one, the team at Honeybells are not going to let it dampen spirits as the company celebrated its ten year anniversary in July. Surviving a decade as a business is nothing to scoff at and the founders of Honeybells, Ross and Sam, have had a chance in recent weeks to look back and reflect on what an incredible journey Honeybells has undertaken.
Ten years is a long time and organisations, like people, are often so occupied by the present and driving things forwards that looking at their own prior accomplishments is rarely mentioned and more importantly celebrated. However, one positive that can be taken from the Covid-19 pandemic is that the world has seemed to have slowed down and businesses like Honeybells have been able to pause, take stock and reflect on the many achievements and successes that have come to fruition since the business's inception in 2010.
Honeybells was born from a love of camping and a vision that saw a glaring hole in the luxury camping/glamping marketplace. The business officially started when Ross and Sam decided to purchase a single tent from eBay and advertising their new service on a one-page website where customers could enquire about hiring the aforementioned tent.
Interest soon began to pick-up and it wasn't long before Ross was assembling the tent for the first ever Honeybells customer to enjoy. Sam was unable to help out at the time as she was heavily pregnant with the couple's second child, Oliver; who was actually born two days after the company's first ever job! The birth of Oliver and later Sienna (born in 2017), would complete the family (alongside Ross and Sam's eldest child Charlie) and help to create some of the most unforgettable memories that go hand in hand with the story and successes of Honeybells.
As you can probably guess, Honeybells has come along way over the past decade and now boasts an inventory of over 400 tents, as well as full-time team of committed and knowledgeable staff. Serving the needs of thousands of customers all across the UK and Europe has become the norm for Honeybells and the glamping specialists have provided their services for the likes of Live Nation, Bournemouth 7s Festival, Larmer Tree Festival, British F1 Grand Prix and Le Mans; amongst countless other clients, including companies such as Red Bull, ITV, Aston Martin and Merlin Entertainment. If this wasn't enough, Honeybells also services the requirements of all sorts of weddings, corporate functions, stag and hen dos, along with everything inbetween!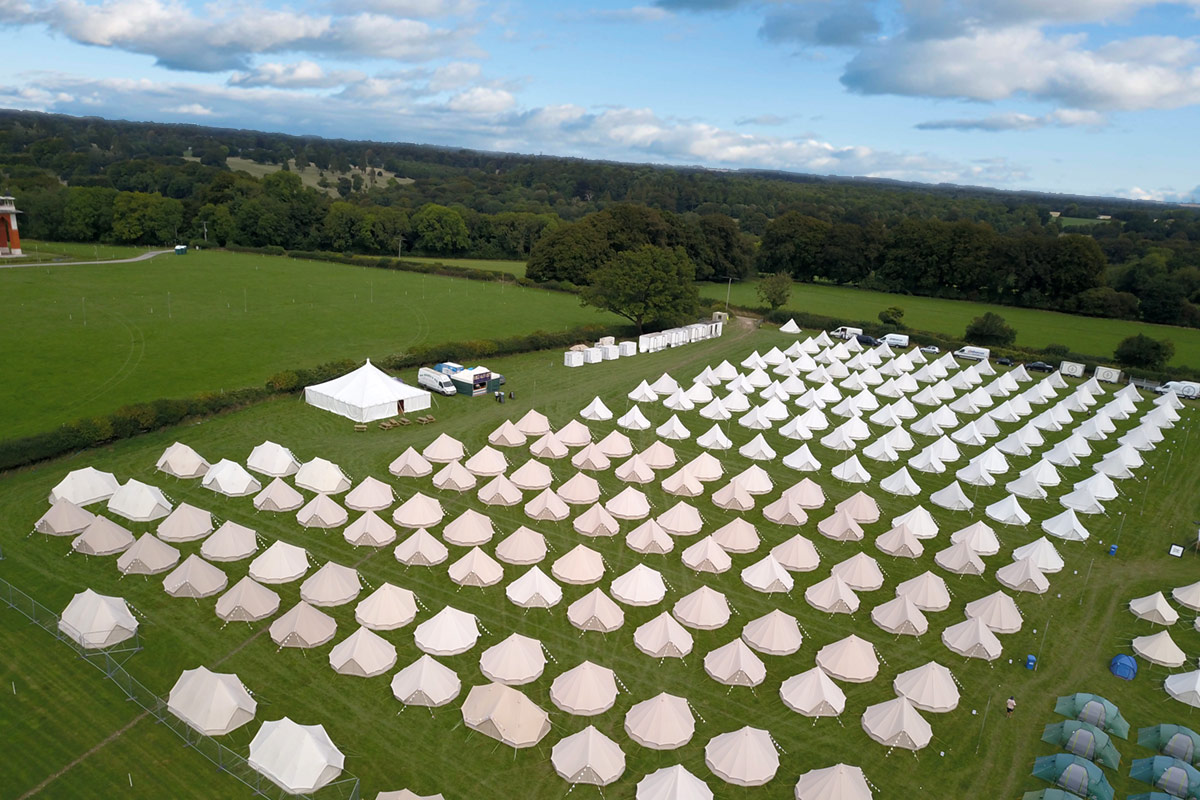 Although the business's headquarters can be found in North Dorset, Honeybells is able to cover a large area and accommodate multiple jobs at once during the busy summer period due to the franchisees that are based in the North West and South East of England. The franchisees are former 'seasonal' staff members who have discovered a passion and love for the industry whilst under the Honeybells wing and understand how high the standards are, accepting nothing but the very best in terms of service.
Alongside the summer-based projects that have been mentioned above, Honeybells remains busy through the winter months. This is largely in part due to a plethora of unique services that Honeybells proudly have in the arsenal. The first is the Garden Glamping service that was launched in 2020 in attempt to ease the pain of losing all our favourite events to Covid-19, giving customers the chance to have a luxury tent in their own back garden and create their own festival or party in a safe manner. With their own specialist laundry department in place, Honeybells are able to ensure that any of the 700 bedding items that the company stocks are thoroughly cleaned and ready to be used again in no time.
A larger service is the one that sees Honeybells being responsible for the installation and maintenance of approximately 300 Safari tents that are based across the breadth of the UK; utilising the services of the company's excellent repair wing, which is another locally based (North Dorset) organisation that the company is proud to partner with.
Never an organisation to sit still for long, Honeybells is always looking to innovate and diversify, with 2020 being no different. The company are excited to confirm that they will soon be opening their own fully operational retail outlet which will cover all camping and glamping needs, providing customers with the best products from a host of market leading suppliers. Accompanying this exciting news is the announcement that after months of R&D with a market-leading European firm, a brand new accommodation orientated product will be introduced to the Honeybells arsenal in 2021; so make sure you follow Honeybells social media and keep your eyes peeled!
Honeybells, Ross and Sam would like to take this opportunity to thank everyone who has helped the business become what it is today. From the multiple groups of local students who have done a magnificent job whilst working as seasonal staff over the summers to the customers who have placed faith in us to deliver on what is always their biggest day. We've had a great time getting to where we are but we're not done yet, so here's to the next 10 years!